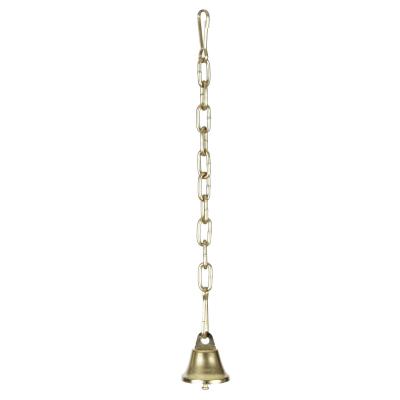 Brass Parakeet Bell
Model Number: 3
Product UPC Number: 048081303009
Discontinued
Toys are decorative little toys for the smallest birds
Small and shiny, these little toys intrigue birds with their tinkling bell sounds, dancing movement, and sparkling surfaces.
Provides hours of interactive fun and is a visual and aural delight.
Prevue Pet Products Brass Bells feature all-welded chains, bird-safe bells, and quick-link attachments for easy hanging. Our Brass Parakeet Bell measures approximately 1-3/4 inches Wide and 8-1/4 inches High.
| | |
| --- | --- |
| Unit of Sale | EA |
| Warnings | Inspect the product periodically and remove from use if it becomes worn or damaged |
| Color | Brass Finish |
| Cleaning | Thoroughly inspect all toys and accessories on a daily basis. Wipe clean with a damp soft cloth as needed before returning it to the cage. |
| Overall Size | 1.25"Wx8.25"H |
| Animal Sizes | X-Small, Small, Medium |