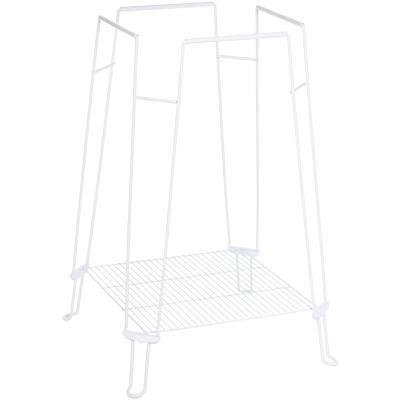 Clean Life Bird Cage Stand - White
Model Number: 870
Product UPC Number: 048081008706
Discontinued
Locks into the Clean Life cage base to make a stable unit
Integrated storage shelf
Designed exclusively to work with Clean Life cages #850, #851, #852
Prevue Pet Products Clean Life bird cage Stand White 870 is a heavy-duty tubular steel bird cage stand, with a strong 4 leg support base. Designed to accommodate all Prevue Clean Life bird cages with a base size of 18 inches Long and 18 inches Wide. Easily assembled and featuring a White epoxy coated finish, our Clean Life 870 Stand measures 22 inches Long 22 inches Wide and stands 28 inches High.
| | |
| --- | --- |
| Inner Pack | 1 |
| Material | Non-toxic and pet safe epoxy coated steel. |
| Unit of Sale | EA |
| Warnings | Inspect the product periodically and remove from use if it becomes worn or damaged |
| Color | White epoxy coated finish |
| Cleaning | Wash cage stand as needed with warm water using a damp soft cloth and mild soap. Dry thoroughly otherwise rusting may occur. |
| Overall Size | 22" L x 22" W x 28" H |
Prevue Pet Products does have replacement parts available for this item. Some, but not all of the specific replacement parts available are listed below. If the specific part that you are looking for is not listed, it does not mean that it is not available, but could mean that we do not have a specific part number assigned to the part. If you are looking for replacement parts for this item, or have any questions or comments, please fill out the Customer Service Form referenced below. Our customer service representative will get back to you and assist you with your request. Please allow 24-48 hours for a customer service representative to return your inquiry.