Flight Cage for Sugar Gliders
4/11/2019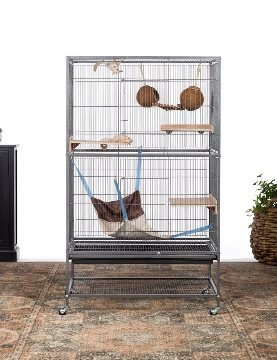 "Prevue Pet Products
offers its
Flight Cage for Sugar Gliders.
The company's classic flight cage is now a re-envisioned retreat for sugar gliders. The large wrought iron home features two large hinged front-access doors and six small side-access doors as well as three adjustable/removable perches and four water/feeder cups. It has a pullout grille and tray for easy cleaning. The cage stand base features an integrated storage shelf and easy-rolling casters. The product has half-inch wire spacing. An extra-large version is also available."
For the full article, click here!