Blush Playtop Bird Home Receives Best in Show Award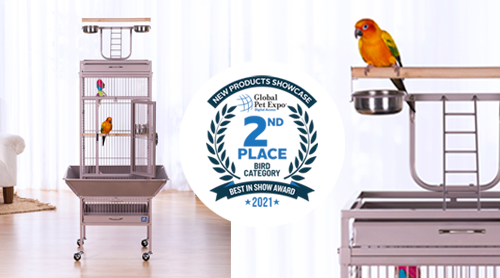 3/26/2021
At the 2021 Global Pet Expo Digital Access show, Prevue was selected as a winner in the New Products Showcase, Bird category for our #3151BLUSH Playtop Bird Home.
The Playtop Bird Home #3151BLUSH is one of our best-selling parrot cages in a beautiful, soft blush rosé color. This cage offers quality craftsmanship at an affordable cost, constructed with powder coated steel. With a cage-top playstand to keep your bird entertained and content, the slide lock on the front door keeps your bird securely inside its cage when playtime is over. Also included is four stainless steel cups, two wood perches and a castered stand for portability. Both trays and bottom grille are removable for ease of cleaning while the rounded corner seed guards control mess around the cage. This playtop home is beautiful, functional and award-winning!
For more information about the award, visit
Global Pet Expo
.