Sunburst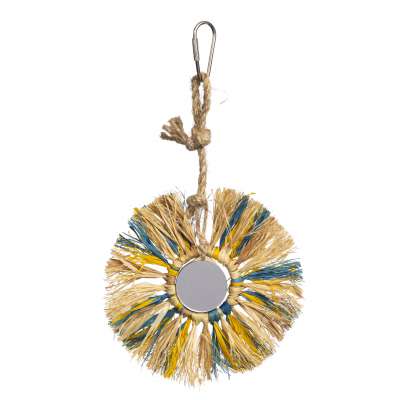 Model Number: 60243
Product UPC Number: 04808160243
New Item!
A Playfuls™ Preen & Pacify toy!
Birds will delight in the two-sided mirror for preening and grooming feathers
Pluckable fibers for satisfying preening and nest-building instincts
Tugging, biting, preening the ring of fibers provide a calming, pacifying activity
An ideal toy for small and medium size birds
Regularly supervise pets with toys and accessories and remove item when worn or damaged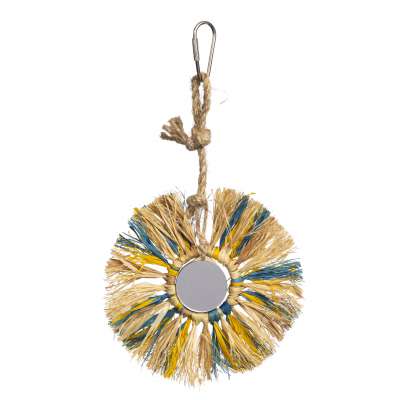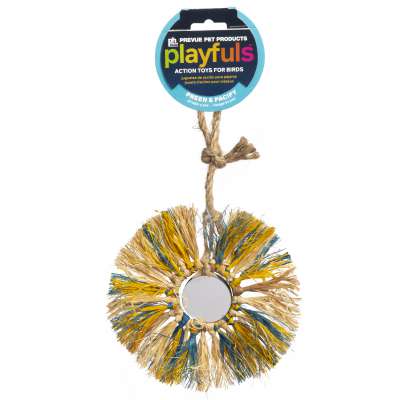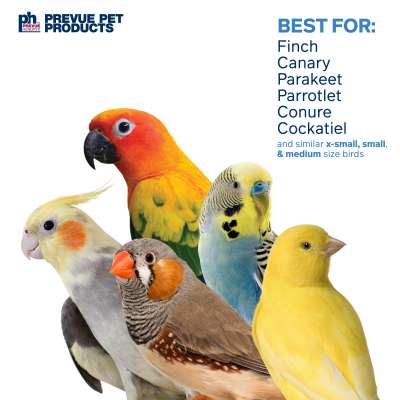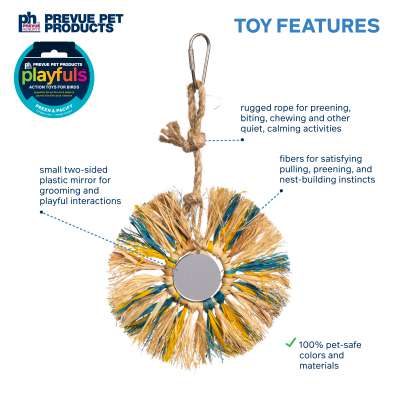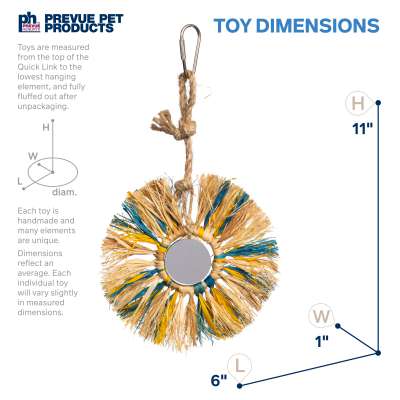 Prevue Pet Products offers (#60243) Sunburst, a Playfuls™ Preen & Pacify toy for small and medium size birds. The ring of preenable, pluckable fibers will keep birds engaged in a pacifying activity, while also satisfying natural urges to gather nesting materials. An engaging two-sided mirror in the center will catch light in a playful, attractive way, and birds will take delight in seeing their image and spinning the mirror. Fibers are 100% natural, sustainable raffia palm and the plastic mirror is bird-safe. The toy is handmade and hand-assembled, which means each toy will vary slightly in measurement from the listed dimensions of 6" L x 1"W x 11" long, from top of quick-link to bottom of toy. As always, supervise pets at play and remove toy when worn or damaged.
| | |
| --- | --- |
| Material | Raffia palm fiber, plastic mirror, natural jute rope, quick-link |
| Unit of Sale | Each |
| Warnings | Always supervise pets at play, especially with new toys and accessories. Inspect toys and accessories daily. Remove items which are worn and damaged. |
| Color | Natural material colors with multicolored fibers |
| Cleaning | Inspect all toys and accessories on a daily basis. Wipe clean with a soft, damp cloth as needed. Dry thoroughly (air dry or hot-air dryer) before replacing in the cage environment. |
| Overall Size | 6"L x 1"W x 11"H |
| Animal Sizes | X-Small, Small, Medium |