Takeout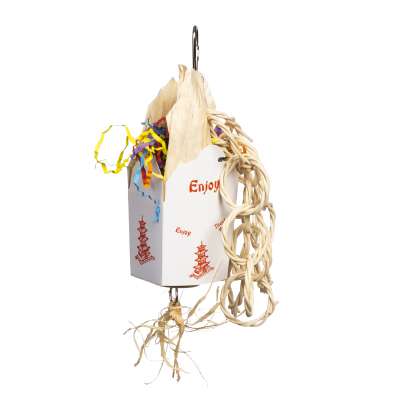 Model Number: 60245
Product UPC Number: 048081602454
New Item!
A Playfuls™ Forage & Engage toy!
Colorful paper strips to satisfy plucking, preening and nest-building instincts
Raffia ribbons for biting and shredding for engaging beak and claw play
Raffia fibers for plucking, preening and untying encourages beak engagement
Rings woven from strong, long-fiber rattan are great for biting, tugging and chewing
Paperboard box can be refilled with fibers or treats providing additional problem solving challenges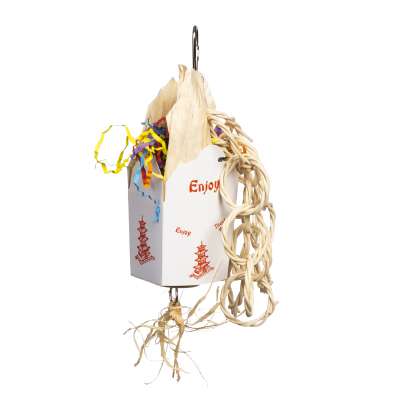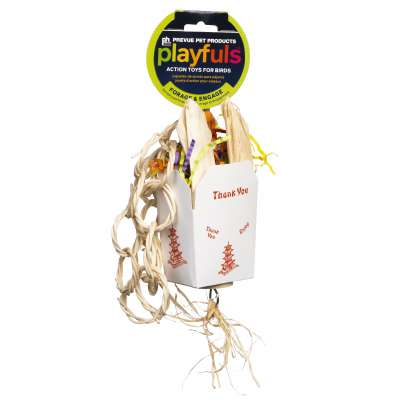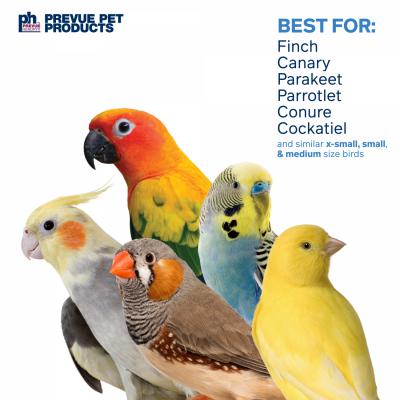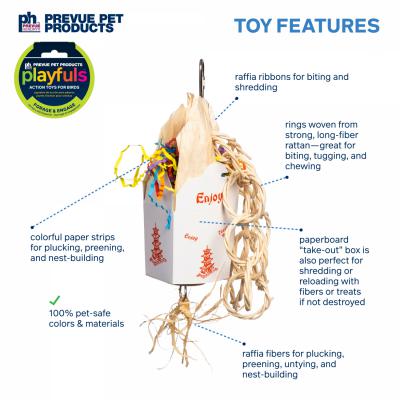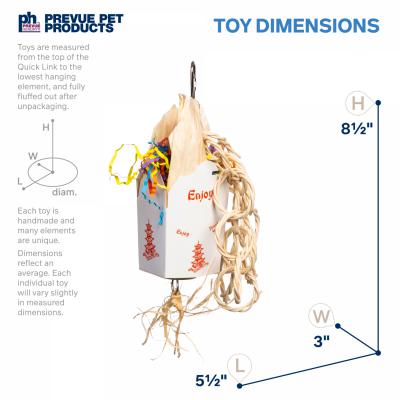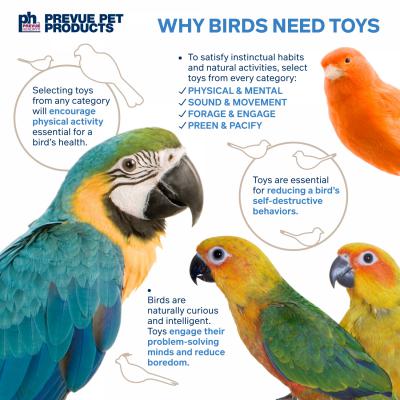 Playfuls™ Takeout 60245 Bird Toy from Prevue Pet Products is an engaging and interactive toy designed for small to medium-sized birds. This toy is focused on providing a multi-sensory experience for your bird by tapping into their natural instincts and behaviors. The Forage and Engage aspect of the toy is aimed at satisfying your bird's instinctual need to search, root, uncover, extract, and collect. This can stimulate their problem-solving nature and provide mental stimulation. You have the option to replenish the toy with fibers or add treats and foods to engage their senses even further. The toy measures approximately 5 1/2" long, by 3" wide, by 8 1/2" high. Because these toys are handmade, there might be slight variations in shape and size. Just like with any pet toy, it's important to supervise your bird while they're playing with the toy. Regularly inspect the toy for any signs of wear or damage, and replace it when it's used or worn out to ensure your bird's safety and ongoing entertainment.
| | |
| --- | --- |
| Material | Paperboard box, raffia, rattan, paper, quick link |
| Warnings | Always supervise pets at play, especially with new toys or accessories. Inspect toys and accessories daily. Remove items when worn or damaged. |
| Color | Multi-colors |
| Cleaning | Inspect all toys and accessories on a daily basis. Wipe clean with a soft cloth as needed. Dry thoroughly before replacing in the cage environment. |
| Overall Size | 5.25" L x 3"W x 8.5" H |
| Animal Sizes | X-Small, Small, Medium |