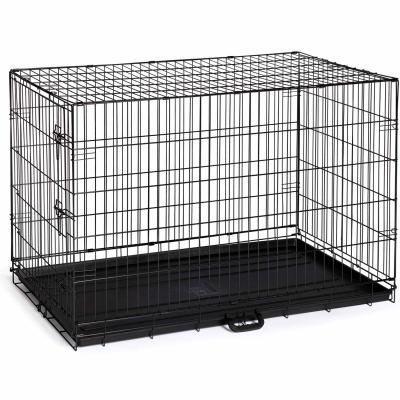 Home On-The-Go Single Door Dog Crate X-Large
Model Number: E435
Product UPC Number: 048081204351
Folds down for easy storage or travel
Plastic base pans are easy to remove and clean
The heavy gauge mesh has a powder-coated finish for durability
Packaged in display-ready boxes
Accommodates pet sizes up to 30"H/ 85 lbs. MAX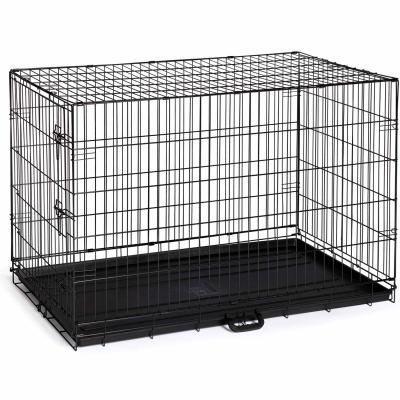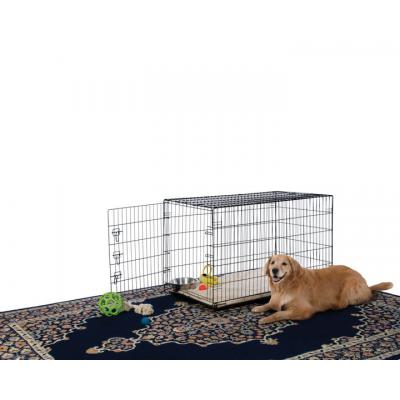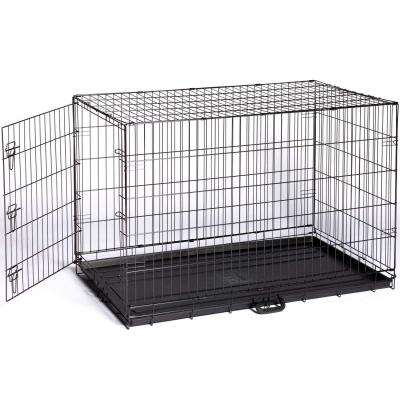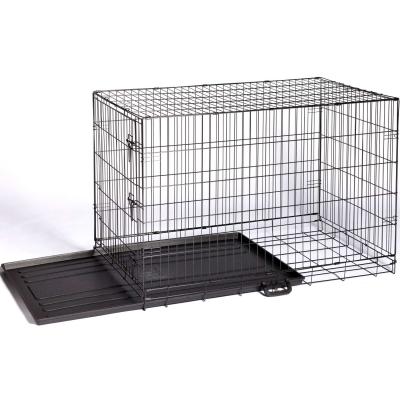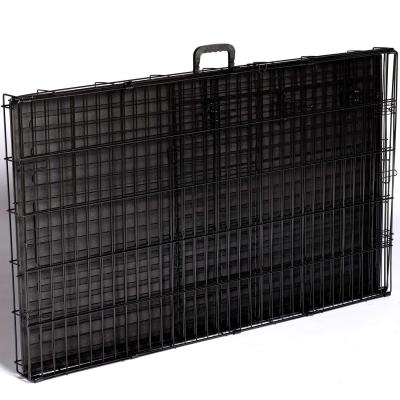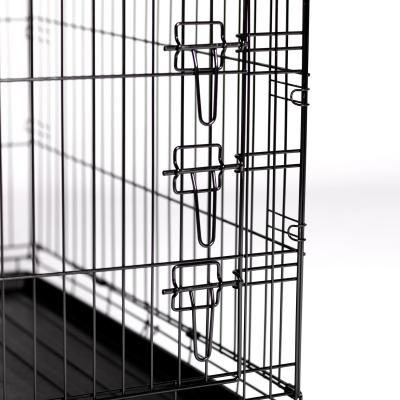 Prevue Pet Products Home On-The-Go Single Door Dog Crate X-Large E435 has been created to provide your pet with the highest level of safety and comfort. Designed to withstand years of use, our Economy Dog Crate features an innovative injection-molded plastic pan which is stronger than other plastics and will not warp. Extra deep 1 ½ inch plastic pan with rounded corners prevent leaks while elevated grooved portions of the pan keep your pup above any mess. Minimal space between the pan and bird cage, plus an independent pan lock, mean the pan won't be pushed out, but can be easily removed for quick cleaning. Constructed from heavy gauge mesh for security and stability, the large front door features a heavier framework plus 3 security locks, strategically placed near the perimeter to provide maximum security. Lightweight, single door crate features a non-toxic, durable, powder-coated black finish, assembles easily without tools, has plastic handles for portability and folds flat when not in use. Whether used for training or traveling our wire crate provides your pet with unobstructed views and better air ventilation than plastic kennels and won't leak or stain like galvanized steel. Our Large Economy Dog Crate is ideal for pets up to 85 lbs. and 30" in height, such as Boxers, Golden Retrievers, Old English Sheepdogs and Dobermans. Crate measures 49 1/2 inches Long, 29 3/8 inches Wide and 32 1/4 inches High while open and folds flat to 49 1/2 inches Long, 29 3/8 inches Wide and 4 1/8 inches High. Constructed from 6, 7, 8 & 11 gauge mesh with 1 1/2 inch wire spacing.
| | |
| --- | --- |
| Wire Spacing | 1 1/2" |
| Inner Pack | 1 |
| Material | Powder-coated steel wire with a heavy duty injection-molded plastic base pan |
| Unit of Sale | EA |
| Warnings | Inspect the product periodically and remove from use if it becomes worn or damaged |
| Color | Black |
| Cleaning | Wash cage regularly with a mild soap, warm water and Prevues non-abrasive #109 Cage Scrubber. Dry thoroughly. Do not dry tray in the sun, as it can warp. |
| Overall Size | 49 1/2 " L x 29 3/8" W x 32 1/4" H |
| Wire Gauge | 6 & 7 & 8 & 11 |
| Animal Sizes | X-Large |
Prevue Pet Products does have replacement parts available for this item. Some, but not all of the specific replacement parts available are listed below. If the specific part that you are looking for is not listed, it does not mean that it is not available, but could mean that we do not have a specific part number assigned to the part. If you are looking for replacement parts for this item, or have any questions or comments, please fill out the Customer Service Form referenced below. Our customer service representative will get back to you and assist you with your request. Please allow 24-48 hours for a customer service representative to return your inquiry.
Related Accessories