Large Rabbit Hutch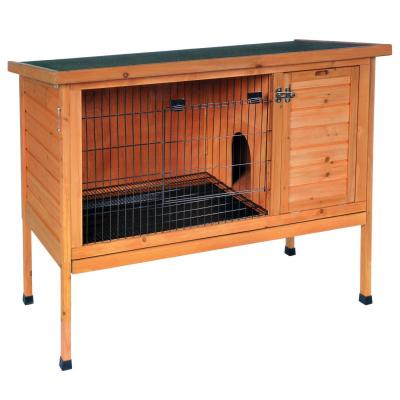 Model Number: 461
Product UPC Number: 048081004616
The water-resistant hutch top is an asphalt shingle, designed to protect the hutch and your pet from inclement weather
Locking hinge on lid allows for hands-free access to interior
Entry ramp can be left down for anytime access
Door within front cage mesh is offset to allow room for water bottle attachment
Interior panels remove for roomier living space and easier cleaning
Bottom debris tray removes separately from bottom floor grille
Roof latch keeps lid closed; in-mesh door has double locks; ramp door stays closed with an all-steel slide lock system-pets are safe from simple gusts of wind to would-be predators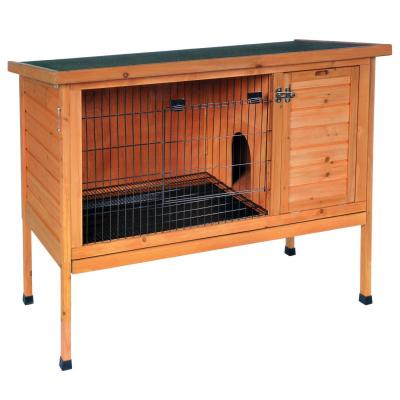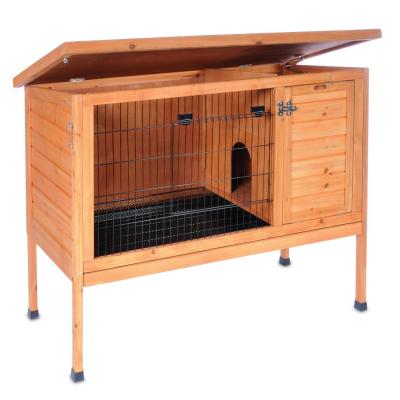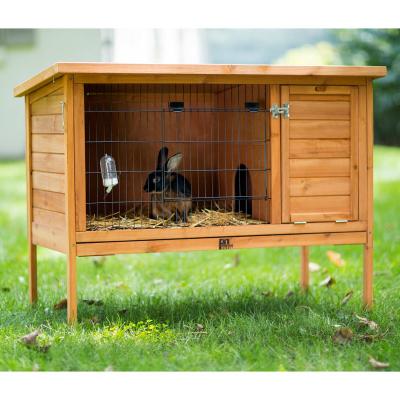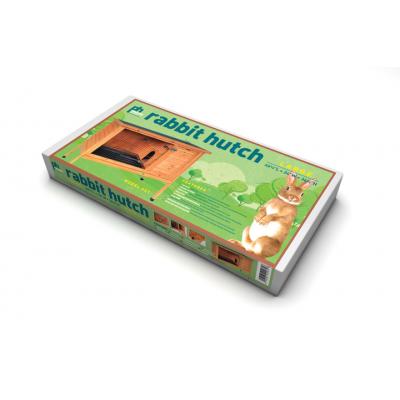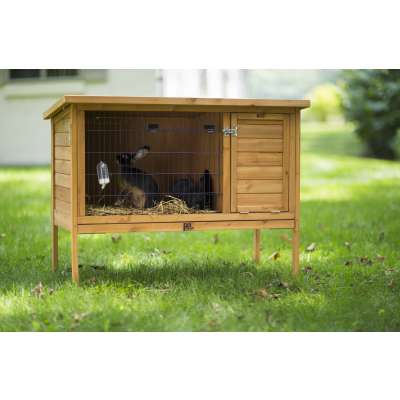 Prevue Pet Products Large Rabbit Hutch 461 provides your rabbit with a safe, secure hutch that they will be happy to call home. Crafted from a fine weather-resistant variety of fir tree lumber and coated with a protective, non-toxic stain, this rabbit hutch also features a water-resistant roof made of asphalt shingles and is designed to protect your pet from inclement weather. Our thoroughly constructed design has an open floor plan that connects to an adjoining, private nesting box area, removable interior divider walls, a fold-down entry ramp plus a foot-friendly removable bottom grille. Additional security features include a lid latch and double door locks on the front wire cage door. Ideal for housing larger rabbits, our Large Rabbit Hutch 461 measures 46-1/2" Long, 24" Wide and 36-1/4" High. To maintain the longevity of your purchase, we recommend that you periodically treat it with a non-toxic sealant, and protect it with a tarp or other covering during extended periods of inclement weather. Prevue Pet Large Rabbit Hutch Playpen Extension 461PEN available separately.
| | |
| --- | --- |
| Inner Pack | 1 |
| Material | Crafted from a fine weather-resistant variety of fir tree lumber and coated with a protective, non-toxic stain |
| Unit of Sale | EA |
| Warnings | Inspect the product periodically and remove from use if it becomes worn or damaged |
| Color | Stained wood |
| Includes | Interior Divider Panels and Grille |
| Cleaning | Wash cage as needed with a soft damp cloth and mild soap. Dry thoroughly. |
| Overall Size | 46 1/2" L x 24" W x 36 1/4" H |
| Interior Space | 42 1/2" L x 20" W x 20" H |
| Animal Sizes | Medium, Large |
Prevue Pet Products does have replacement parts available for this item. Some, but not all of the specific replacement parts available are listed below. If the specific part that you are looking for is not listed, it does not mean that it is not available, but could mean that we do not have a specific part number assigned to the part. If you are looking for replacement parts for this item, or have any questions or comments, please fill out the Customer Service Form referenced below. Our customer service representative will get back to you and assist you with your request. Please allow 24-48 hours for a customer service representative to return your inquiry.