Cockatiel Playtop Bird Cage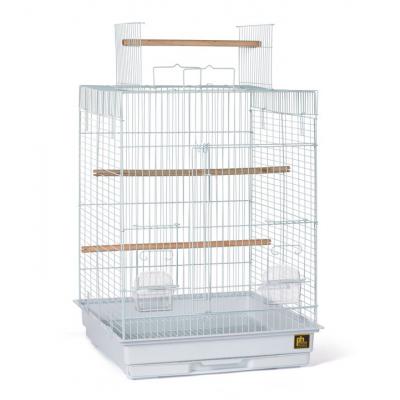 Model Number: SP1818PT
Product UPC Number: 048081000014
Playtop roof opening with perch
Large hinged front access door
Removable grille & pull-out debris tray for easy cleaning
Fits on stand #444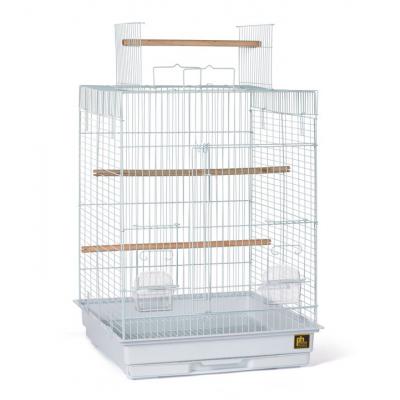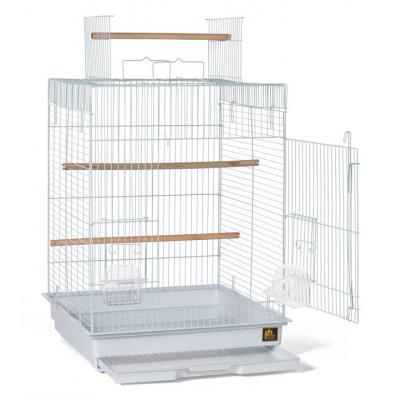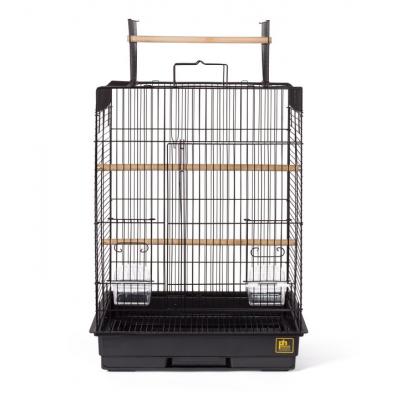 Prevue Pet Products Cockatiel Playtop bird cage SP1818PT features a playtop roof and has a removable bottom grille and pull-out tray for easy cleaning. This Cockatiel Playtop cage includes two plastic cups and three wood perches and is designed for parakeets, cockatiels and other small-medium birds. This bird cage measures 18" Long x 18" Wide x 24" High with 5/8" wire spacing.
| | |
| --- | --- |
| Wire Spacing | 5/8" |
| Inner Pack | 1 |
| Material | Non-toxic and pet safe powder-coated steel mesh with plastic tray. |
| Unit of Sale | EA |
| Warnings | Inspect the product periodically and remove from use if it becomes worn or damaged |
| Color | Assorted Colors |
| Includes | 3 Perches, 2 Cups, Grille, and Tray |
| Cleaning | Wash cage regularly with a mild soap, warm water and Prevues non-abrasive #109 Cage Scrubber. Dry thoroughly. Do not dry tray in the sun, as it can warp. |
| Overall Size | 18" L x 18" W x 24" H |
| Wire Gauge | 11 & 12 |
| Animal Sizes | X-Small, Small, Medium |
Assembly is simple......

1) Place the plastic base on a stable surface.
2) Open the cage body wire mesh and attach the bottom of the body to the plastic base. The main door of the cage facing the front, and the wire loops to attach the top facing outward.
3) Attach the cage top to the body assembly, using the wire hooks to position and secure the top into place.
4) Place any additional items, such as perches or feeding cups into position.

Make sure that all latches, securing the top to the body and the body to the base, are in place and secure before use.
Prevue Pet Products does have replacement parts available for this item. Some, but not all of the specific replacement parts available are listed below. If the specific part that you are looking for is not listed, it does not mean that it is not available, but could mean that we do not have a specific part number assigned to the part. If you are looking for replacement parts for this item, or have any questions or comments, please fill out the Customer Service Form referenced below. Our customer service representative will get back to you and assist you with your request. Please allow 24-48 hours for a customer service representative to return your inquiry.